---
Refrigerated body from novotruck®
Our refrigerated body is the first choice for any vehicle size.

the novotruck refrigerated box body is characterized by the use of the best, environmentally friendly raw materials.
Depending on the application, our construction supports perfect use and impresses with its appealing, independent design.
By using particularly high-performance insulation, we achieve a higher payload on the one hand and a particularly long service life on the other.
The components glued together are effectively protected by powder-coated aluminum corner profiles at the edges that are particularly vulnerable in everyday life. All portals, as well as the hinges and locks, are made of stainless steel. This design stands for a long service life, extreme resilience, cleanliness and extensive freedom from wear. It goes without saying that we only supply products that are manufactured in all respects in such a way that they comply with the Food Hygiene Ordinance (LMHV). Of course, this also means that our products are always 100% compatible with the requirements of HACCP and IFS. If you need an ATP certificate, you will also get the best quality of our products tested and certified.
With a novotruck refrigerated box, you can always be sure that you have taken the decisive and right step towards food safety. We are happy to offer you appropriate systems for temperature recording and monitoring for your own documentation. From an economic and ecological point of view, novotruck refrigerated bodies guarantee a perfect and sensible investment. The novotruck refrigerated body - perfect in every respect. novotruck refrigerated box bodys - simply perfect.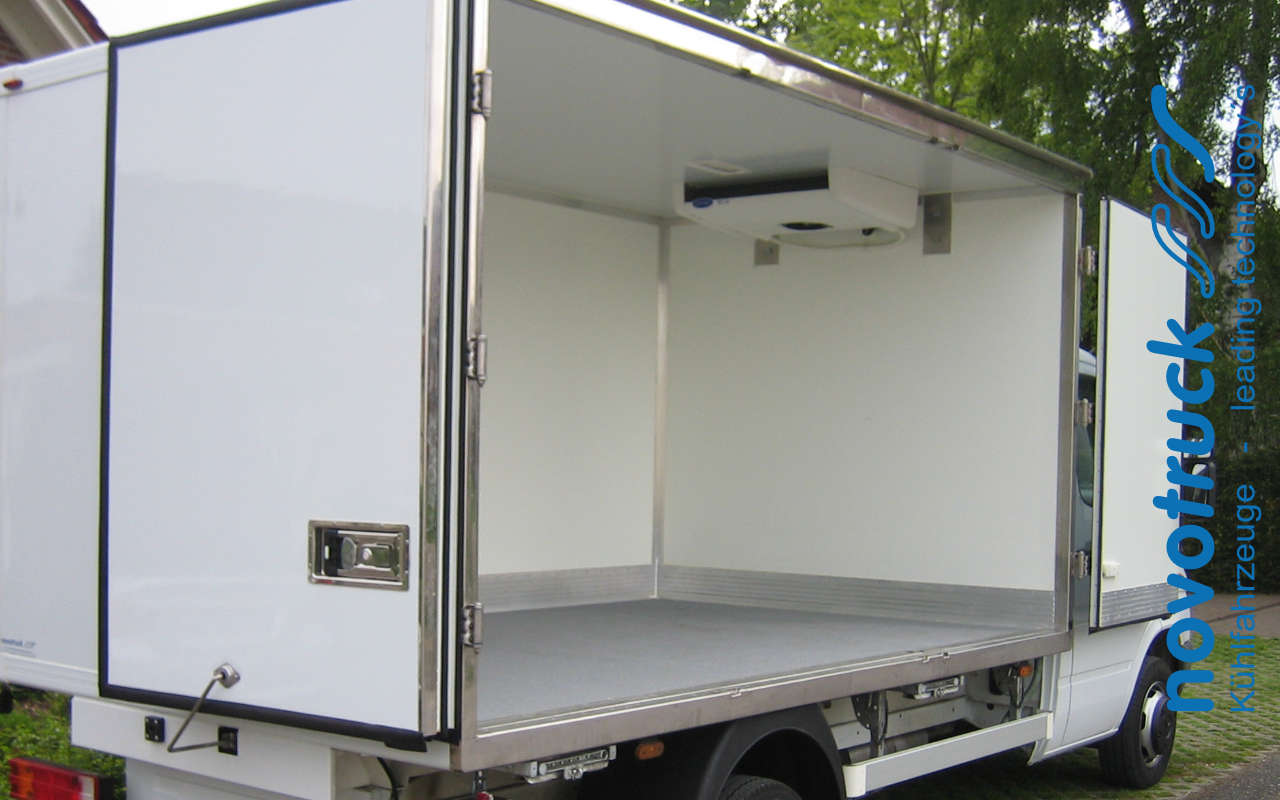 Because we believe that only a refrigerated body that exactly meets your requirements is perfect, we offer you solutions that you previously thought didn't exist. So if you soon only load your vehicle from the side because it makes sense for your business, your competitors will envy you for this solution. If you have another idea that will help your business, let us know - we can build it for you!
For example, if you transport doner kebabs or other frozen products with a large mass, you need a small space for a maximum payload. A low structure for low air resistance and thus low fuel consumption at high speed. Our "kebab wagon" with all the advantages of the well-known novotruck products is certainly the best choice!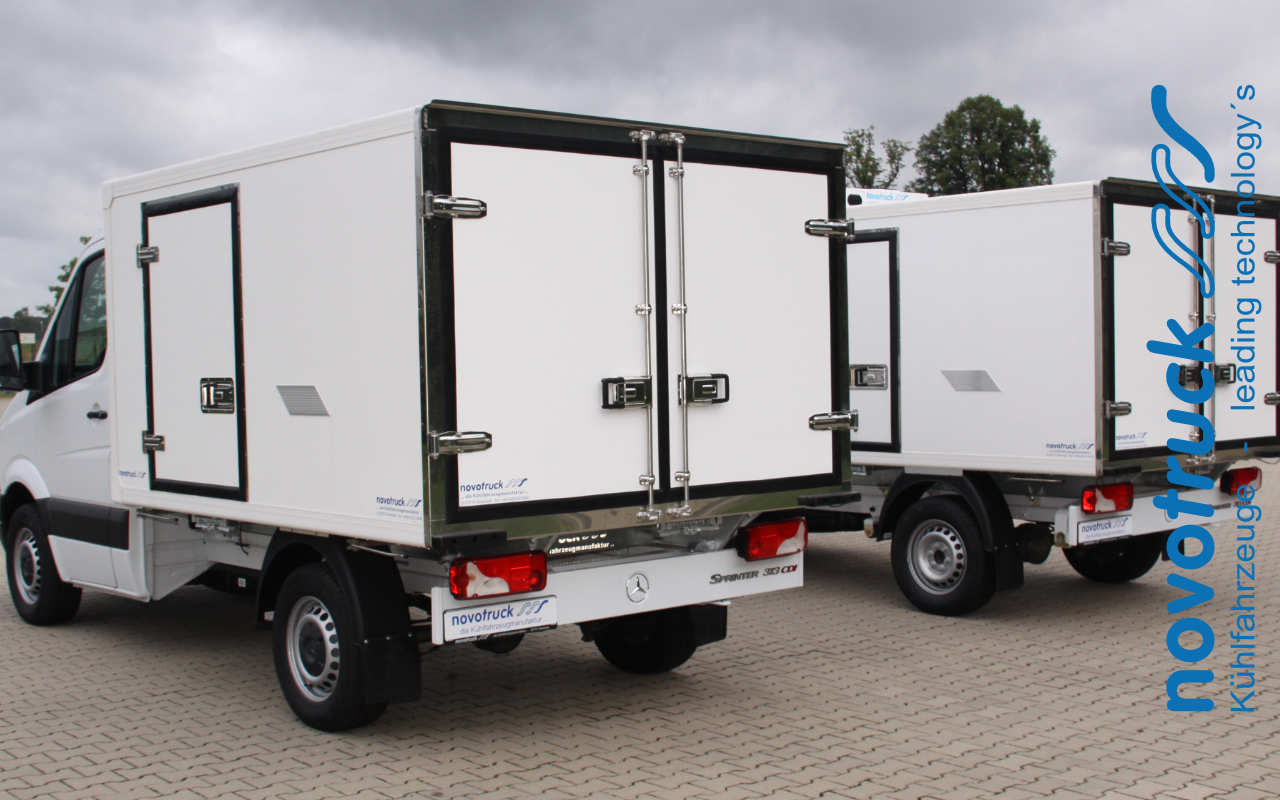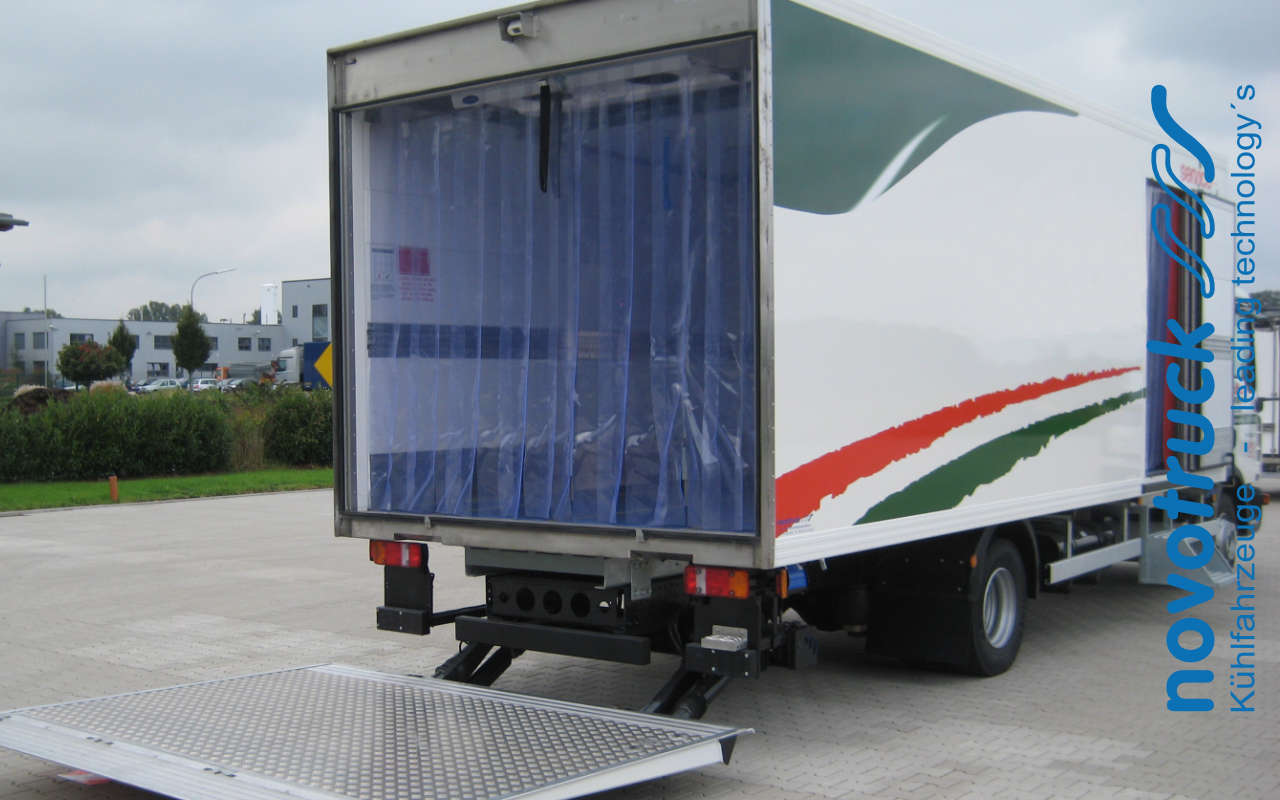 You can safely close your novotruck refrigerated box with a tail lift. Loading and unloading is child's play. We install the tail lifts of all well-known manufacturers. Depending on the application, these roll-off protections for wheelchairs are specially pre-treated for use with aggressive loads and thus fit homogeneously into the vehicle concept. It's perfect when everything runs optimally - plan your refrigerated box with tail lift with us and get it on the road soon.
If you are transporting cargo that can lose liquid, such as fresh fish, our sophisticated drainage systems ensure that the liquid is accurately drained into appropriate containers for later disposal. This keeps the environment clean and all collected liquids can be disposed of in a targeted and professional manner. This is quick and easy if you plan your novotruck body with the appropriate equipment together with us.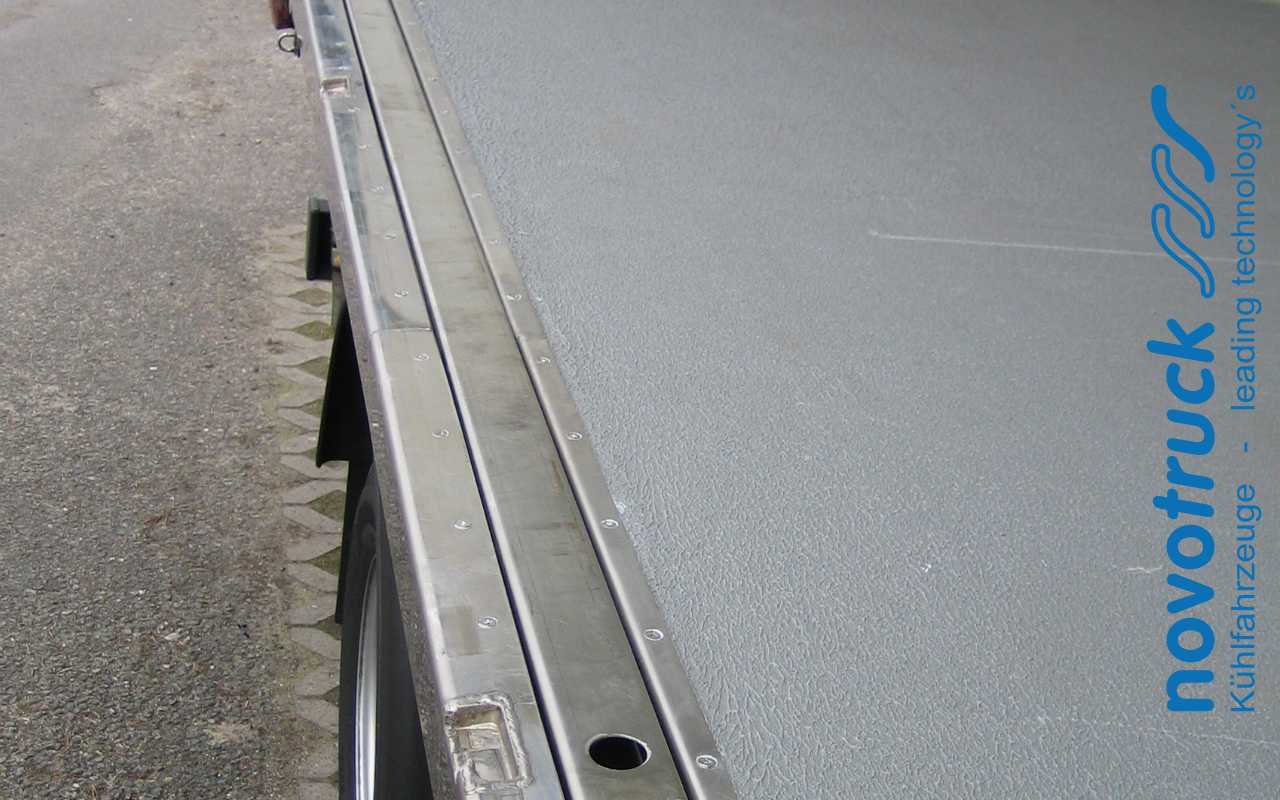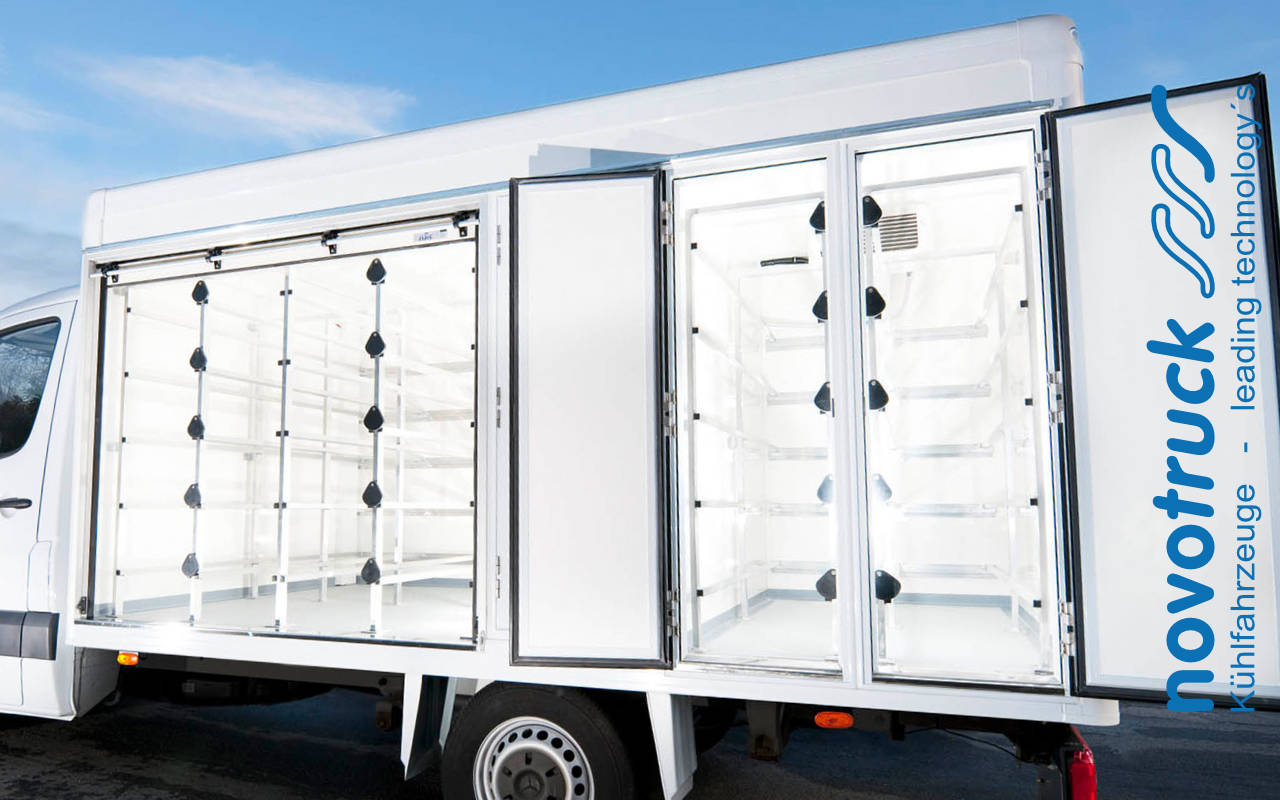 Your business is home delivery? Do you supply your customers with very different products in different temperature ranges? Do you use trays that are pre-picked? If you always have everything to hand very easily and extremely quickly, you are probably already using a refrigerated body for your home delivery. You can take any shell on your vehicle on the delivery tour without entering it - just from the outside. No problem - that's exactly what we are already building in different versions for our customers. Benefit from our know-how!
Through-loading trucks are certainly the best vehicles for distributing groceries on our novotruck refrigerated bodies. You can load pallets or trolleys, take a short-coupled trailer with you and only need one ramp space for the entire train - this saves space and time.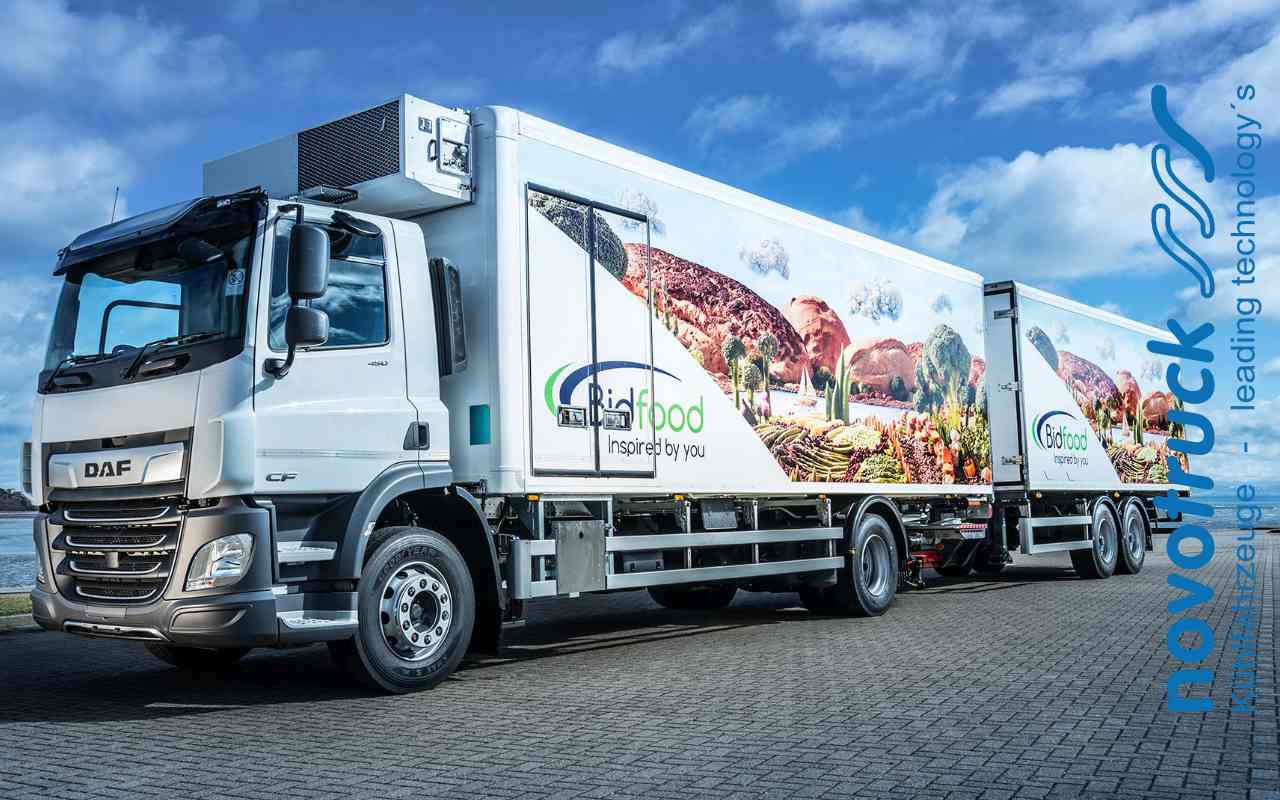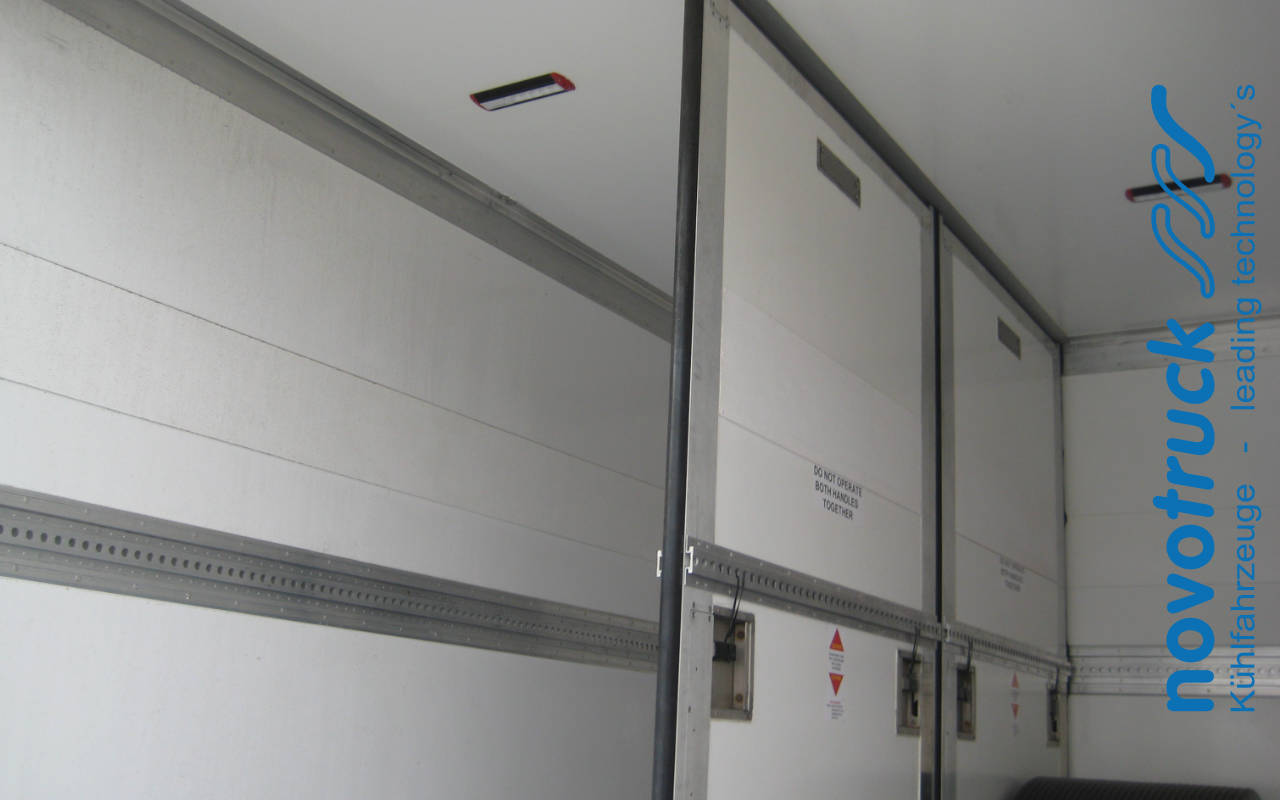 Partition wall systems make work easier and provide additional load securing in our novotruck refrigerated bodies. Everything can be stowed away perfectly and is optimally secured. This not only results in more order but also more safety for the driver, vehicle and load. Incidentally, all our load securing systems are tested and certified in various respects.
If the driver's cab is larger, the refrigeration machine moves under the refrigerated body or, as here, in the refrigerated body - whichever is more optimal for you. We do it exactly the way you want it.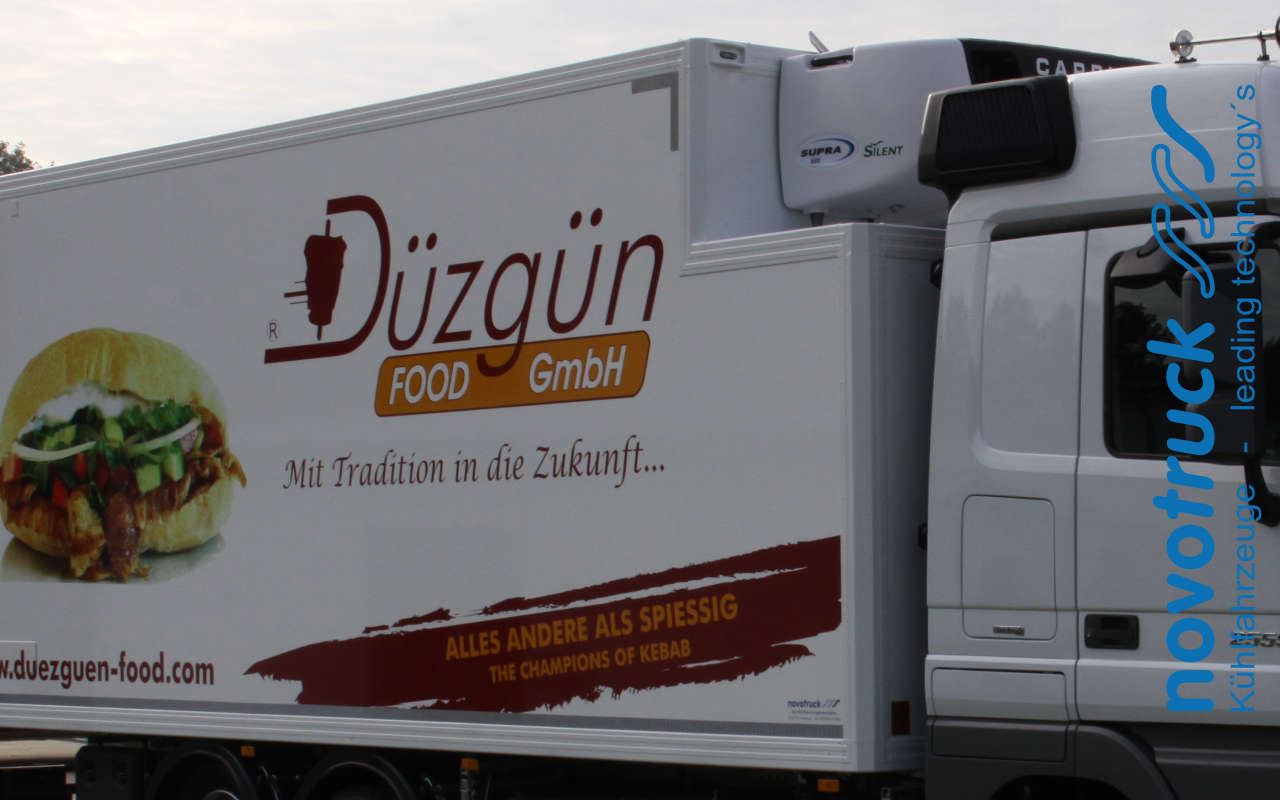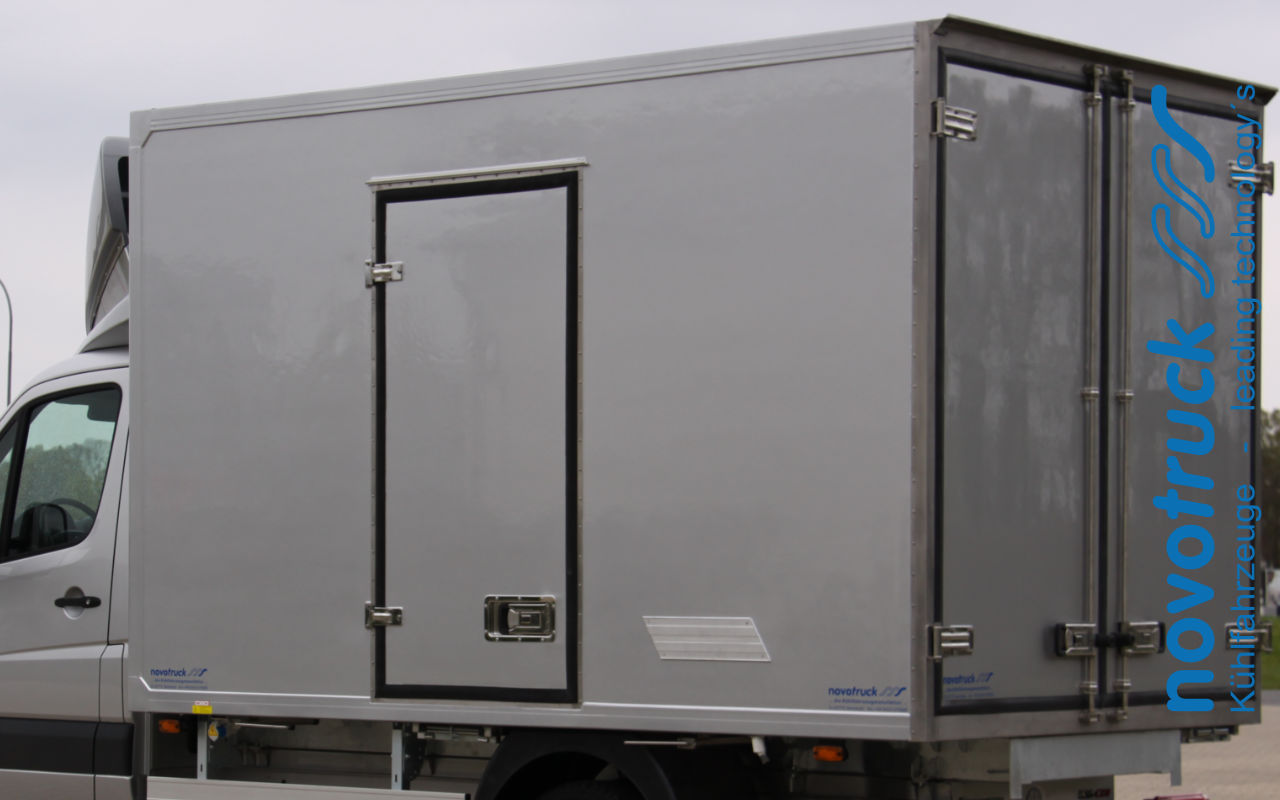 Bumper strips all around the walls, as well as corresponding stainless steel strips on the side doors, protect your novotruck refrigerated body against damage for many years and prevent permanent repairs. Because we know the points where there is particular danger, we protect your novotruck refrigerated body right from the planning stage and build it in such a way that it lasts a long time and does not require any repairs. If all goes well, it will surely have a second life on a new chassis.
any questions ? - ask a novotruck expert!